Company Profile
US-based, Concentrating Solar Power Utility (CSPU) specializes in the development of solar thermal power technologies using high temperatures. The management team brings experience from academia and consulting in the solar industry. The company has recently signed an exclusive licensing agreement with Rensselaer Polytechnic Institute's Office of Technology Commercialization which helps protect the IP of emerging technologies at the same time that it supports new companies during their commercialization process.
Funding Opportunity
The company said it expects to raise a total of $100m in the next three years.
Technology
The company has developed a solar power technology that utilizes what is known as magnetohydrodynamics (MHD). This cutting edge technology uses superconducting magnets to increase the efficiency of conversion from sunlight to electricity by stripping electrons from high-energy plasma jets and thereby generating power with no moving parts. In this sense the magnets and plasma are deployed in the process of extraction of electricity from superheated charged gas. This allows the generation of power directly from a body of hot ionized gas.
The company said that the key breakthrough of its technology is its ability to operate at higher temperatures, which makes it more efficient than conventional solar technologies.
Business Plan
Tom Kay, one of the inventors of the technology explains that the company is now working on a prototype that will be tested in Arizona in partnership with another company there. This prototype is expected to be ready by 2014 and the idea is to test it with the largest utility in this state, which Kay explained is the best place to do it given that Arizona is one of the hottest regions in the US.
Following on, Kay said that the first step is to incorporate this concentrating solar power to turn a micro turbine, which is something that can be taken to the market immediately. The second step, which is expected to be achieved in two years, is to incorporate an advanced version of MHD in the system. Finally, the company expects to roll out high temperature solar thermal power plants to existing companies around the world. The company expects to establish licensing agreements with key partners that can manufacture these hybrid systems.
Kay explained that the company wants to partner with manufacturing companies around the world that have different types of capabilities for producing the components required in this technology including heliostats, magnets, heat pipes, pumps, materials, etc.
The company will initially be commercialised in the US and then the company plans to expand to the booming international market for alternate energy.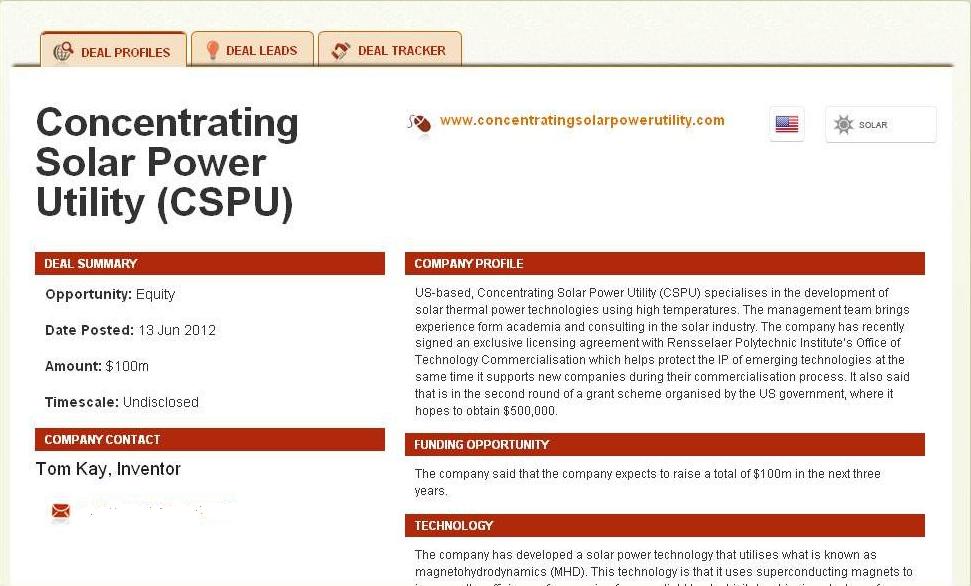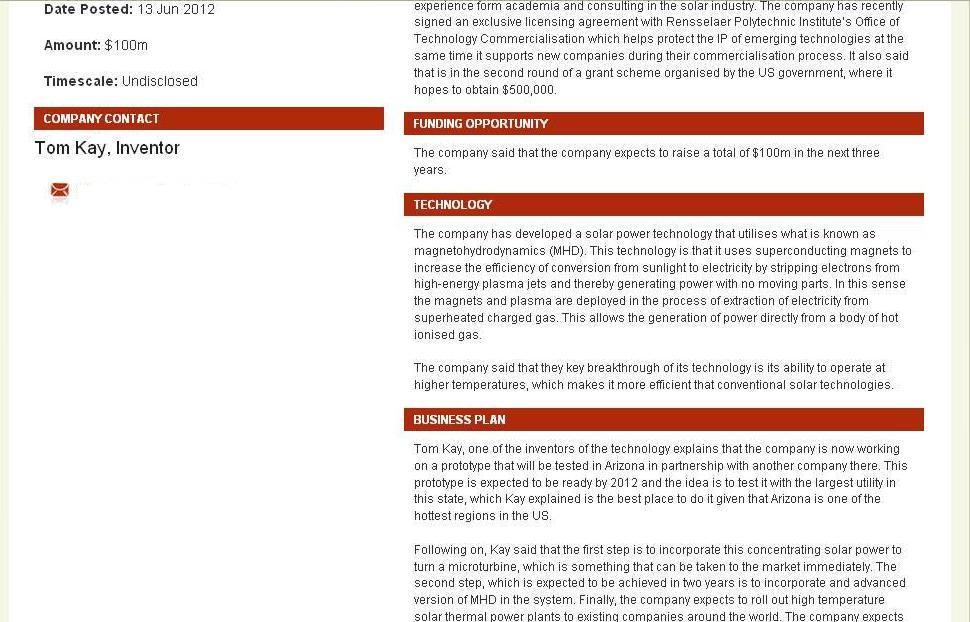 The World's Most Efficient Solar Electric Technology